McCain SureCrisp™ fries stay crispy for 20 minutes in a closed delivery bag* and create a premium experience for your customers, with crispy fries in every delivery.
Consumers agree the unique coating on our SureCrisp™ fries means that they are crispier and more enjoyable than uncoated fries**. With over 50 years of potato expertise, working with over 250 British potato farmers, McCain SureCrisp™ will help keep you ahead of the competition.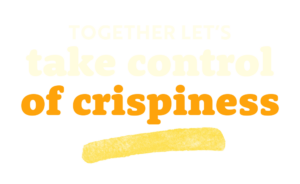 *Source: Sensory testing for crispness, Sensory Dimensions – August 2018 **Consumer preference testing. Blue Yonder – April 2019 Product tested was McCain 3/8 Cut. Outcome may vary depending on climate.